The Team
Heading up the LS/FF team are Approaching Lines founders Chris Nelson and Demi Taylor, surfers and surf writers who have been involved in surfing for more than 30 years.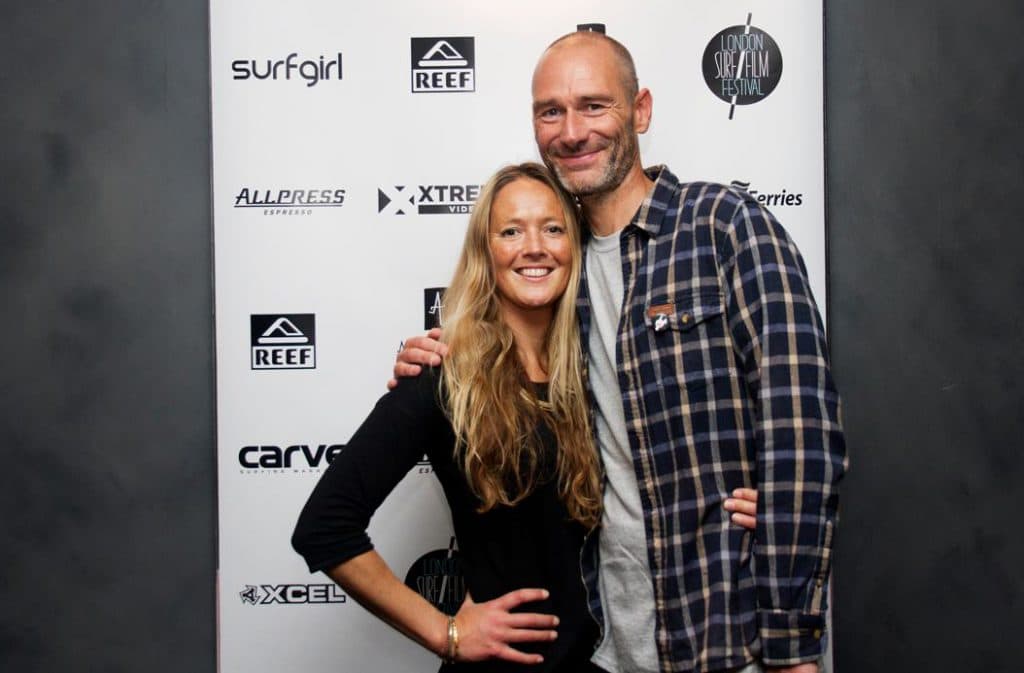 London Surf / Film Festival is an Approaching Lines production. Approaching Lines is a collective of surfers, writers and cultural commentators dedicated to preserving and communicating the spirit of surfing.
EVENT DIRECTOR / CHRIS NELSON
Writer Chris Nelson cut his teeth surfing the unforgiving reefs of England's northeast coast in the late 80's where ice-cream headaches, leaky neoprene and pollution filled line-ups kept a small local crew on first name terms. The hook was set and he has been scouring the globe for empty, frigid waves ever since. Following a 3 year journey to the planet's most inhospitable outposts, seeking out those hardy waveriders who call these icy line-ups home his book Cold Water Souls: In Search of Surfing's Cold Water Pioneers was released to critical acclaim receiving praise across the globe from The Surfer's Journal to  The Telegraph.
During the '90s he founded Asylum and Freeride, two of the UK's most influential boardsports magazines and as editor interviewed surfing's heroes and antiheroes. Chris has penned seven books on surfing and contributes to surf media across the globe, as well as national magazines, newspaper and broadcast media on surf culture and travel issues.
CREATIVE DIRECTOR / DEMI TAYLOR
London Surf / Film Festival co-founder and Creative Director Demi Taylor hails from the Cornish heartlands. A surf and travel writer, she has authored six critically acclaimed books and contributes regularly to core and mainstream press around the globe. Her journeys have taken her from the frosty beaches of Norway to the sun blessed line-ups of Central America, yet it is those early autumn sessions shared with a few friends at her home break that really stir her soul.
Demi handled the UK communications for one of the world's leading surf brands before going on to write and photo edit six best selling surf titles. Her books include Surfing Britain,  Surfing Europe and  Surfing the World – a dream tour around the world's best 80 waves – which features contributions from some of waveriding's most iconic characters and has been celebrated by the likes of ASL and Surfer Magazine. When not writing or out in the Cornish waters, she can often be found covered in sawdust making hand planes for friends.
JOINING THE TEAM / VOLUNTEERING
The London Surf / Film Festival couldn't operate without a crack team of volunteers. In return for your time, you'll get exclusive goodies, tickets to screenings and be amongst some of the first people in the UK to see the films premiering at the festival!
Details of the volunteering roles are below so if you have a passion for surf, film and culture and you'd like to get involved and lend a hand this year, we'd love to hear from you.
Drop us a line HERE and tell us a little bit about yourself, your experience plus the role you'd be interested in CREW / PHOTOGRAPHY / FILM.
ROLES: For all roles we're looking for outgoing, confident, friendly and reliable people with a love of surf film and culture.
CREW: front of house, filmmaker/ press/ VIP liaison, merchandiser, runner, marketing assistance , maker/doer – it's about mucking in, being flexible and being part of the team!
PHOTOGRAPHY: We are looking for photographers with their own DSLR cameras to join the team – it's about capturing the moments big and small, the people and the party
FILM: If you're  filmmaker with your own kit, we'd love to hear from you. At LS/FF we're lucky to host a number of talks and Q+A's with stars of surf and screen and we're looking for filmmakers to capture those moments so we can share them with the rest of the world!