Behind the scenes: Auction for the Promise Club
We've know AFTPC for quite a while now – Toby the drummer used to manage the surfshop in Aggie, Zoe -on vocals and guitar worked with our friends at Finisterre while Perran's granddad was a coffin maker who also made some of the first surfboards in the UK. But this has been a pretty awesome year for the band, they've played the Olympics and the Paralympics, Bestival and Y Not and The Kaiser Chiefs included them on the first ever Emerging Icons Album. We're prety stoked to be having them play at this year's LS/FF, so we caught up with them for a chat!
LS/FF – Auction for the Promise Club. Wow. Where did the name come from? Could you introduce the line up: On drums….
Toby White Chambers.  Singing and playing rhythm guitar is Toby's sister Zoe White Chambers.  And Perran Tremewan.  The name is a bit of a long story that we wont bore you with.
LS/FF – How did you get into surfing?
We all surf to varying degrees!  Toby is the keenest surfer.  He studied surf science at Cornwall College and than ran the Aggie Surf Shop in St Agnes for some years.  Westward Ho! North Devon were Toby's first waves.  Perran's grandad was a coffin maker that made some of the first recorded surfboards in the UK.   Perran is a Perranporth boy.
LS/FF – What is it about the surfing lifestyle that has kept you engaged? For example are you drawn to a specific kind of board / style of surfing / era?
Not really, its just something fun to do since we were youngsters.  The modern fishes make sense for getting the most out of the majority of our waves/conditions.  Love some of Dick Van Straalen fishes.
LS/FF –  When did you first pick up a (guitar/ drums/ mic – as appropriate) and did you always want to be a musician?
Zoe has always sung since we were children and Perran learnt guitar as a past time.  Toby started playing a few years ago.  I don't think any of us really consider ourselves musicians?! Think we are frauds to be honest…
LS/FF – How do you balance the two passions of surfing and music?
Fortunately we haven't had to leave the coast just yet as we are still based in the Southwest.  We are hoping to tour some more next year and maybe surf in some of the coastal places we go to.  All being well we will be recording at Quiksilvers studio in SW France soon so we are hoping to mix the two pleasures!
LS/FF – How would you describe your musical style?
It sounds stupid but it would be great if you could tell us what you think?!  Female fronted rock band, noisey with quiet bits, seems to be getting a positive response from people!
LS/FF – Where do you draw inspiration from?
PJ Harvey, Radiohead, Bjork, Nick Cave and the Bad Seeds etc
LS/FF – You guys seem to have had a pretty epic year. Can you give us a quick run down of some of the highlights?
Playing at the Olympics and the Paralympics was amazing!  Such an awesome atmosphere.  Bestival and Y Not were great festivals.  The Kaiser Chiefs included us on the first ever Emerging Icons Album.  Quiksilver have made us brand ambassadors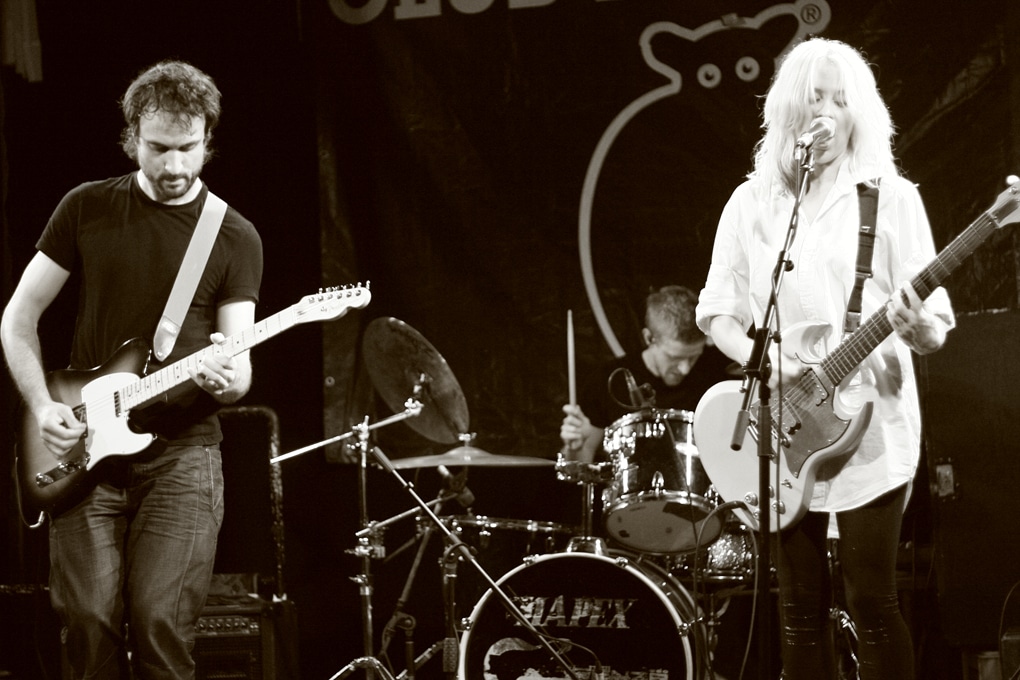 http://auctionforthepromiseclub.co.uk/
http://www.facebook.com/auctionforthepromiseclubmusic
http://www.youtube.com/auctionforthepromise