Filmmaker Focus: Jeremy Rumas 2016
Hangs Upon Nothing is one of our all time favourite surf movies. A six year passion project that combines sublime surfing and compelling cinematography, all captured on 16mil by artist/filmmaker/musician Jeremy Rumas.
It's an aesthetic masterpiece, an ode to Indonesia with an original score by Velo Sun. It has been described as 'Channeling the essence of Morning of the Earth and mixing it with the pure vibe of Litmus'. High praise indeed for a first time filmmaker. After a round of premieres at festivals across the globe and a bag full of awards, we were stoked to hear that Jeremy had released his finely crafted film on Blu-ray/DVD, so we decided to catch up and find out what's been going down since the film premiered at LS/FF 2013.
Hangs Upon Nothing really is a must for anyone's collection – where can they get hold of a copy?
It's available on Blu-ray/DVD at: www.hangsuponnothing.com, and it can also be bought on Amazon.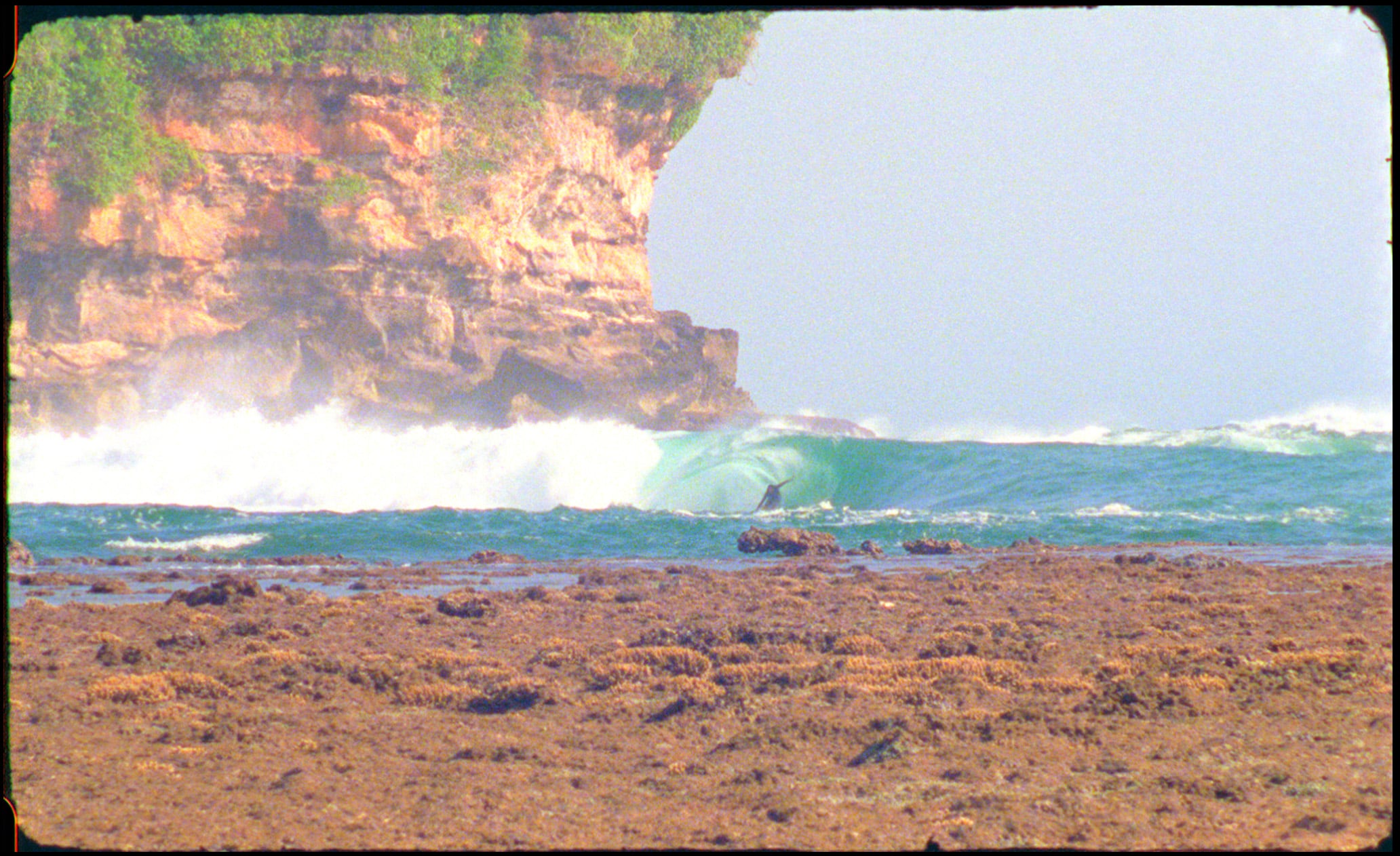 The soundtrack to the film is awesome – is it possible to buy this also?
Thanks! Yeah, that is available on the film's site as well, or directly through bandcamp at: www.velosun.bandcamp.com.
Tell us about the process going from screening the film through festivals, to finding a distributor, to getting the film on sale? Has it been a hard road?
Everything about this project has been a long road. At first I was submitting to quite a few bigger name fests with entry fees, and then decided to stop that. The fees add up quick. I was given some great opportunities to screen the film at different festivals around the world, mostly surf film fests, and really appreciate that.
What I found the most effective as an independent filmmaker is to find independent theaters that want to show unique independent films, and actually pay the filmmaker for showing the film. It can be hard to find theaters like this, but they're out there. I collaborated with local groups such as local chapters of Surfrider, and surf shops, local blogs, turning the screenings into a bit of an event.
My distributor for the Blu-ray/DVD release, Etiquette Pictures, is based out of Connecticut in the US. When I first started on this project, I was transferring 16mm film footage to digital at a post-house in Chicago, so that I could begin to digitally edit my footage. The colorist I worked with there, Ryan Emerson, started Etiquette Pictures along with a few other guys around the time we were doing final color on Hangs Upon Nothing. EP really liked the film, and offered to release it.
Is there anything you've learnt along the way you'd share with other filmmakers?
Persistence is the number one thing I had to have to complete this project. The notion of making a feature length surf film is very romantic and exciting. Actually doing it is also, it's an amazing adventure, but it's also so challenging. It is hard work, sometimes at the ends of earth respective to where you're from, where just getting there wears you out so much that by the time you set up your gear you might want nothing more than to fall asleep in the shade under a tree.
I'd also recommend making short film after short film, as opposed to trying to take on a full length feature. I think there is more upside to this in most cases. Focus on making really good short films. Then if you have to make a feature, try and get some financial backing, using your body of work to show what you can do as a filmmaker. Myself, I just straight up decided I was going to jump to making a feature length film. That's a tough thing to tackle without mostly on your own.
This has a been a long process – how does it feel to finally have the finished Blu-ray in your hands and on sale?
I feel relief! No joke, as the years went on and I hadn't finished this project, I began to worry, what if I were to die before releasing this? So I'm glad to have finished this finally and have it available for people to see. I still have work to do in trying to get the film out there more. And that's a job in itself. But I feel content knowing that I gave it my best shot in making this film, and it's now completed. Hopefully some people enjoy it.
Do you have any other projects in the pipeline.
Nothing locked in at the moment as far as my own independent projects go. I'm still working as a freelance commercial artist doing storyboards and traditional animation. I would love to do more audio-visual projects in the future. I'm leaving it open as to what that will be right now.