Meet the Judge: Tyler Breuer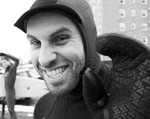 Ever wonder just who decides which films get the award at the London Surf / Film Festival each year? Well, we have assembled a highly cultured, expert jury that watches all the movies and decides on which films get the gongs. Tyler Breuer has been on the festival panel from the get go… in fact it was a conversation with Tyler that planted the seed from which LS/FF sprouted. New York born and bred, he's also one of the most knowledgeable people you can meet with an astounding array of facts and anecdotes on surf movies and characters from surf culture. As well as founding surf film festivals and curating awesome nights of surf culture, he's even guest hosting a radio show on KPISS.FM.
If you're not based Stateside, fear not. You can check out his radio show on the link HERE… pop on your headphones, sit back and immerse yourself in pure surf geekdom of the most awesome kind.
Below: Tyler Breuer (left) in his native New York from the book Cold Water Souls