Paper Sea Quarterly
There are a number of exciting independent publications coming to the fore across the globe, including the beautiful Paper Sea Quarterly which we're delighted to be stocking in the Approaching Lines Room at the LS/FF. We caught up with editor Andy Summons…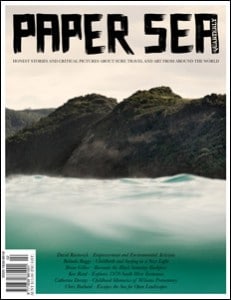 Approaching Lines: Could you introduce yourself and tell me where you're doing this interview.
Paper Sea Quarterly is a new Melbourne-based coffee-table publication full of honest stories and beautiful photographs about surf, travel and art from around the world. Andy Summons (Editor), Tom Batrouney (Photo Editor) and Andrew Diprose (Designer/ Head Photographer) founded PSQ in 2011 and in September 2012 we published Issue Two: Nature & Parks.
It is 8am and we are sitting at a table covered in laptops, diaries, notebooks, coffee cups and tea pots pens and empty plates. We are in a café in Brunswick with the sun shining another round of coffees and tea on the way, it doesn't get much better for a Monday morning.
AL: What is the ethos behind the magazine, what was the inspiration for it and how did it come about?
Paper Sea started as a hand-made publication for writers and artists to share their passion about surfing, travel and art. PSQ is a 200-plus page design-conscious coffee-table publication full of in-depth features on the cultures surrounding the ocean and surfing, travel and the creative lifestyle and work of artists. The inspiration for PSQ came from the enjoyment and nourishment we all take from spending time in the ocean, traveling and creating art in our different mediums.
Before PSQ, we were doing what we do for Paper Sea for ourselves. We realised that we could create something significant and beautiful if we joined creative energy and Paper Sea Quarterly was borne. We stormed the concept for months in vans, beach car parks and cafes. We contacted our wish list of contributors and told them about PSQ and we were blown away by the positive response. Ten months after the inception of Paper Sea Quarterly we published and distributed Issue One around Australia and it's kept charging on form there.
AL: Do you think it's becoming easier or harder to survive as an independent publication?
Paper Sea is our first exploration into independent publishing so we'll just have to let you know if it becomes easier or harder! We launched Paper Sea with no prior publishing experience and so it has been a continuous series of heart breaks, revelations, frustrations, triumphs and successes although not always in that order.
Print as a medium will never die, it won't even become as niche as vinyl did in the music industry. There has been a profound shift in the print industry, that has seen a proliferation of independent publications with more of a hand-made, niche focus and Paper Sea falls close to that category. Publishing quarterly allows us to spend the time that we need to make sure each issue is at the standard we require and it's something that we obsess over. Producing a beautiful publication in collaboration with the best contributors in the world for our subscribers and readers in our main focus.
The inundation of digital content across blogs, websites and channels of social media peaked interest for a while and now a lot of people seem to be searching for reliably honest, well-made and heart-felt content they can enjoy at their own pace and they are finding it in an increasing number of independent print publications.
AL: When so much content is being geared towards a digital format, do you think the tangible of the analogue needs to be maintained?
Right from the start, we always conceptualized Paper Sea Quarterly as a print publication. We could have pursued the digital format and kept it as a digital magazine or even just a website but the digital format doesn't do our contributors' work justice.
We agonise over every page and polish and push it until we're happy with it. We are so proud of every page of each issue that we want people to be able to hold it in their hands and touch every image, every word. For Paper Sea Quarterly the tactile aspect of the printed copy is vital. The standard of our contributors' work is also the reason we decided to make every page available for sale as a museum-grade print through www.papersea.com.au
AL: Who's involved in PSQ?
Paper Sea is a huge collaboration between Photo Editor Tom Batrouney, Designer & Head Photographer Andrew Diprose and Editor Andy Summons and over twenty contributors from most corners of the world. Our contributors are everything to us and being able to provide a platform for them to express their art and style is a real thrill. We have a beautiful team of people working behind the scenes.
International subscribers should email [email protected] for a subscription shipping quote.
www.papersea.com.au
www.facebook.com/PaperSeaQuarterly
Instagram – @PaperSeaThree
www.twitter.com/PaperSeaThree