Hold Fast – Colin Macleod
We're long time pals of super talented musician and songwriter Colin Macleod. We first met at the London Surf / Film Festival in 2013.  He'd just flown in from a gig in Norway, guitar in hand to support friend and Scottish filmmaker Jim Hope with his premiere at the festival. We coaxed Colin on stage and he ended up blowing away the closing night crowd with a beautiful, acoustic set – an intimate affair despite taking place under a spotlight to the packed out cinema.
Colin is one of those unassuming and mesmerising musicians who quietly captivates and keeps hold of your heart. There's a timelessness to his sound. He's played with everyone from Springsteen to Robert Plant but he's more likely found discussing the latest swell forecast for the Western Isles, the intricacies of crofting or the forthcoming salmon run than reeling off big name band mates. With the launch of his eagerly awaited album HOLD FAST this summer we managed to coax out a few salty tales…
You've been on an awesome journey with your music these last couple of years… Yeah it's been a great run the last while. The album tour for Bloodlines was amazing, got to play some incredible shows and travel to some great places.  Robert Plant at the 02 was an incredible day, and Hyde Park with Roger Waters was fantastic too but the highlight was playing the Late Late show in LA. It was surreal to be kicking about on the roof of CBS playing basketball waiting for our call to go live… The next day my friend picked me up and we surfed Malibu at dawn before getting a flight to New York to continue the tour. I just sat in the water and couldn't get my head around it all, how did I get here?!? An incredible time and a real career highlight.
33 – Colin Macleod featuring Sheryl Crow 
The new album Hold Fast is pretty epic. Can you tell me a bit a bit about it, any favourite moments? Thanks! I'm really proud of it. I recorded it with my good pal Jimmy Hogarth over 2 sessions in London. He's an amazing producer and fellow Islander (Orkney) and really understood where I wanted to take the album. It was the easiest album I've ever recorded, and written for that fact. The whole thing just came out almost fully formed. Normally it's a bit of a grind, flitting between manic excitement and crushing doubt but this was great.
Getting Sheryl Crow on board was such a dream. She's the best, just so supportive and so cool. I asked her when we were on tour if she'd be up for it and when she got back to Nashville she recorded it in her home studio, just like that!
Queen Of The Highlands is my favourite track. I'm really proud of it. We went all out on it, nothing spared. Theres even a full orchestra!!
What's the inspiration behind Hold Fast? So the title is the Macleod Clan motto. Underneath the emblem of a bull's head the words 'Hold Fast' are written. My parents had a little crest hung up in the hall when I was younger and it always stuck. The album follows a fictional story of a guy returning to the islands having left to follow his dreams and come up short. Through a series of hardships he comes to discover that the place you're from can be a saviour rather than the ball and chain he always thought it was. It's a story, but rooted in the truths of growing up in a remote place.
Old Man – A Locked In Songs favourite
It goes without saying but big thanks for keeping us so musically connected during lockdown…
Ah yeah the Locked in Songs! That was a blast, it happened completely by accident. At the start of the lockdown I thought about doing a one off thing, but when I did it lots of folks were requesting songs and it quickly went off script, so I thought it'd be fun to do an online version of what we used to do in the pubs and at parties when we were younger. Just taking requests, playing daft songs, having a laugh. It quickly became the highlight of my day, I'm glad so many people enjoyed it.
So what's on the horizon?
At the moment its still a little bit uncertain but I'm hoping to be back out and playing shows before too long. It's just nice to have the album out, and see people's reaction to it. It's been easy to feel disconnected over the last while but being able to share some music and chat about getting back on the road has felt a bit like getting back to normal, it's nice.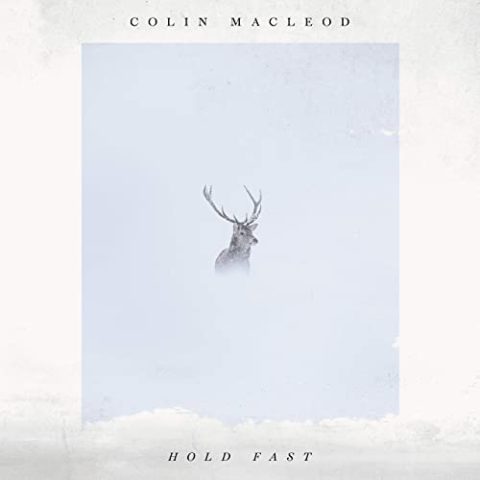 Hold Fast by Colin Macleod is out now on SO Recordings
HERE