Lockdown Surf Film Festival
Back in March 2020, we created LOCKDOWN SURF X FILM FESTIVAL as a response to our times – the Covid-19 pandemic and social isolation. A community project, this free, remote celebration of surf culture brought together a line up of the very best surf films from across the globe accompanied by Q+A's insights and talks from filmmakers, creatives, surfers and some of our favourite cultural commentators. In essence it was about keeping the creativity, community and stoke fires burning through dark times.
We worked with a talented crew of generous filmmakers and raconteurs across the globe to curate a line up of must see movies, as well as a short film contest and Wi-Fi Waves – a crowdsourced surf movie in collaboration with award winning filmmaker Chris McClean, composer CJ Mirra, musician Lee Ann Curren and Backwash Magazine. Accompanied by talks and tales these 'event viewings' were about bringing the community together and keeping the stoke flowing. We were blown away by the messages and response from around the world, it kept our stoke flowing too.
Edition 1 of Lockdown Surf Film Festival has now wrapped. To stay inspired listen in to our catalogue of funny, honest and insightful Q+A's with filmmakers & surfers in conversation with a network of our favourite creatives, commentators and raconteurs across the surfing globe including: Tyler Breuer  Swell Season Radio , David Lee Scales Surf Splendor, Matt Barr Looking Sideways Podcast, Scott Bass The Boardroom Show, Sancho Rodriguez (Founder San Sebastian Surfilmfestibal) plus writers and LS/FF Founders Chris Nelson & Demi Taylor Approaching Lines.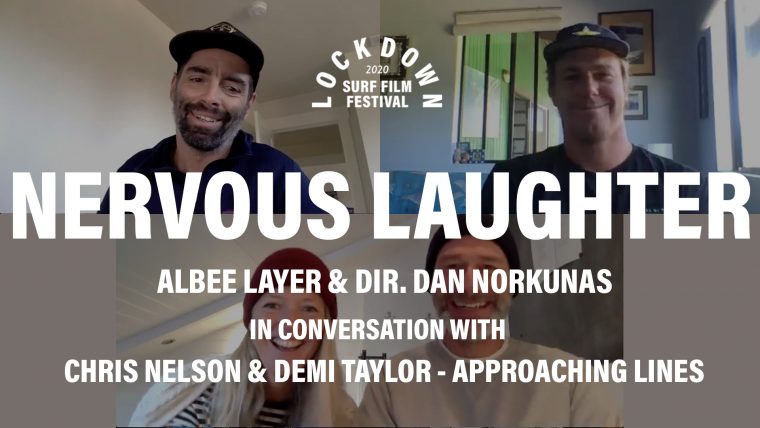 These chats are all about the story behind the project, candid conversations about the journey as well as the ride, inspiration for kick starting creative projects. There's everything from Albee Layer talking big wave surfing, enduring wipeouts and surviving concussion, to filmmakers talking surviving the talking creative process… and everything in between. Listen in HERE.
Lockdown Surf Film Festival is an Approaching Lines production and the brainchild of Chris Nelson and Demi Taylor who founded the London Surf / Film Festival around their kitchen table a decade ago.