The Gallery 2011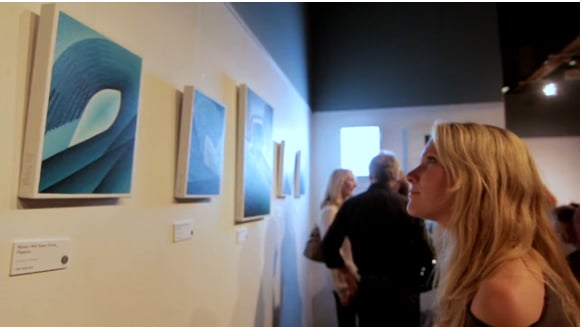 In 2011 LS/FF hosted a pop up gallery at the Riverside Studios. Open to the public from the 1st–15th October, this mixed media art exhibition celebrated what it means to be a surfer in the UK while blowing the lid off common perceptions of what 'surf art' is all about. Featured artists included:
A graduate of the Chelsea School of Art and Founder of Yacht Associates, Richard Bull is an award winning designer who has been prolific in the field of art direction for the music industry. We showcased two series of  his work 'Waves I seem to Recall' and 'Waves I will Never Know'.  Acrylic on Canvas.
Native Yorkshireman Scott Wicking has been commissioned by periodicals from The Daily Telegraph to The Surfer's Path as well as books including the critically acclaimed Cold Water Souls: In Search of Surfing's Cold Water Pioneers. We showcased highlights from his series on North Sea Surfers.
Cornish artist Tony Plant is a gradate of the Chelsea College of Art and Design. His body of work sees him interact with and interpret his environment, the altering lines of the landscape – whether working with film, photography, a rake or paint – his compass. Much of his work is fleeting and washed away with the tide, or painted over acknowledging the cycles of the sun or tide, creating layers of memories.We showcased his series of nightwalks around the Cornish coastline.
Andrew Forrest
Andrew Forrest is a photographer and artist.  In the 70's he lived with a group of bohemians and artists in Paris and recorded their daily lives; he has kept a diary charting his interaction with the sea since his very first surf experience. We showcased his series of mixed media pieces including 'Longboard DNA', emulsion and wood; plus Yves Klein in the Tube and Tim in the Tube 2 utilising surfboard resin.