The Shorties 2018
SHORTIES 2018 VOTING IS NOW CLOSED! STAY TUNED TO SEE WHICH FILMS HAVE BEEN SHORTLISTED!
The Shorties is the hotly contested category at the heart of the London Surf / Film Festival, a platform established to exclusively showcase the cream of British and Irish homegrown filmmaking talents alongside the line up of the very best surf movies from across the globe that we're bringing to the big screen.
This year's longlist features 12 outstanding short films, that's 60 minutes of surf movie magic lined up for your viewing pleasure! These include surf action, comedy, sick edits, soundscapes, travelogues and documentary filmmaking from both established names and new talents and we've been blown away by the sheer quality of submissions.
The top films will be decided by a combination of votes cast by the wider surf community and votes cast by the screening panel which includes influential names in the surf media and the filmmaking world, from established producers to commissioning editors. These will be shown on the big screen at this year's LS/FF and will be eligible for the prestigious London Surf / Film Festival Shortie of the Year Award as well as the London Surf / Film Festival Emerging Talent Award.
LOVE SURF MOVIES?  Support your favourites by sharing the entries & giving them a vote by clicking on the Twitter or Facebook icons. 
Voting is NOW CLOSED FOR 2018 >>> NB. ANY VOTES REGISTERED AFTER THIS TIME WILL NOT COUNT
8th Edition London Surf / Film Festival x Reef 10 – 19 October 2018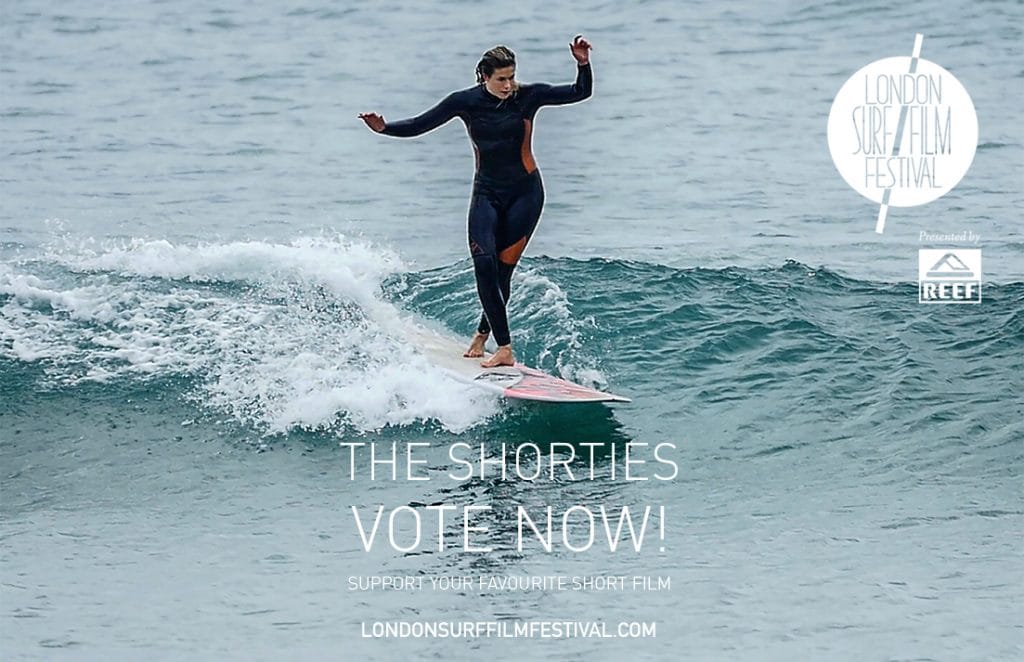 The Shorties
Short films are a central pillar of modern surf culture, a creative outlet for sharing stories and inspiring stoke. Here at the London Surf / Film Festival presented by REEF we wanted to celebrate the short and give homegrown filmmaking talent a platform to bring their visions to the surf world so we established 'The Shorties' which has fast become one of the most prestigious short film competitions for surf filmmakers in the world.
While the main festival is a showcase for international filmmaking, The Shorties short film contest is open exclusively to filmmakers from or based in Britain and Ireland – from both leading lights and up and coming filmmakers.
Each year we're stoked to showcase the very best short film entries on the big screen as part of the festival and these shortlisted films are eligible for prestigious awards including: Shortie of the Year and Emerging Talent.
Surfing and surf culture are wide open to interpretation so we welcome film entries of up to 5 minutes in length that explore all aspects and angles through documentary to animation and anything in between.
In this competition, it's not about whether your waves are big or small, it's about the way you chose to shoot them. Or don't. After all there's more than one way to tell a surf story…
8th Annual London Surf / Film Festival is hosted 10 – 13 October at Regent St Cinema and 14 – 29 at venues popping up across London.
To see this year's full line up of films, hit the LINK
In this competition, it's not about whether your waves are big or small, it's about the way you chose to shoot them. Or don't. After all there's more than one way to tell a surf story…