Win a Cord Surfboard
We are stoked to have an awesome Cord 6'10 Sawn Off Surfboard in Rioja Red to give away at this year's festival, hand crafted by Cord shaper and Cornish charger Markie Lascelles.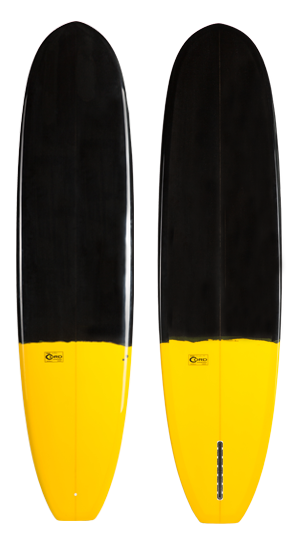 Cord Surfboards has been in and around some of the most exciting and innovative moments in the evolution of the surfboard. Founded in Australia in the mid-sixties, by David 'Humphrey' Lascelles, the brand was instrumental in the shortboard revolution, working with iconic shapers, thinkers and surfers from Bob McTavish to George Greenough to Peter Drouyn.
"Cord was not only producing quite a few surfboards, but also a lot of ideas," explains Humphrey. "Bob had a different idea every day, the boys would all add to it and overnight we'd have another innovation coming out of Cord. The other big change at the time was in fin design. George Greenough had arrived with his new shaped fins which  revolutionised surfboards and are still in use today."
One of the hot young shapers and surfers on the team was Peter Chops Lascelles – who moved to sunny Cornwall and, in 1982, opened up Aggie Surf Shop, bringing Cord boards here to the UK.
Today, the family tradition is continued by surfer / shaper Markie Lascelles, producing beautifully crafted classic style boards with a modern twist. From longboards and fish, to twin fins and Thrusters. For more details check out cordsurfboards.co.uk