CREATIVE FOCUS: GLASS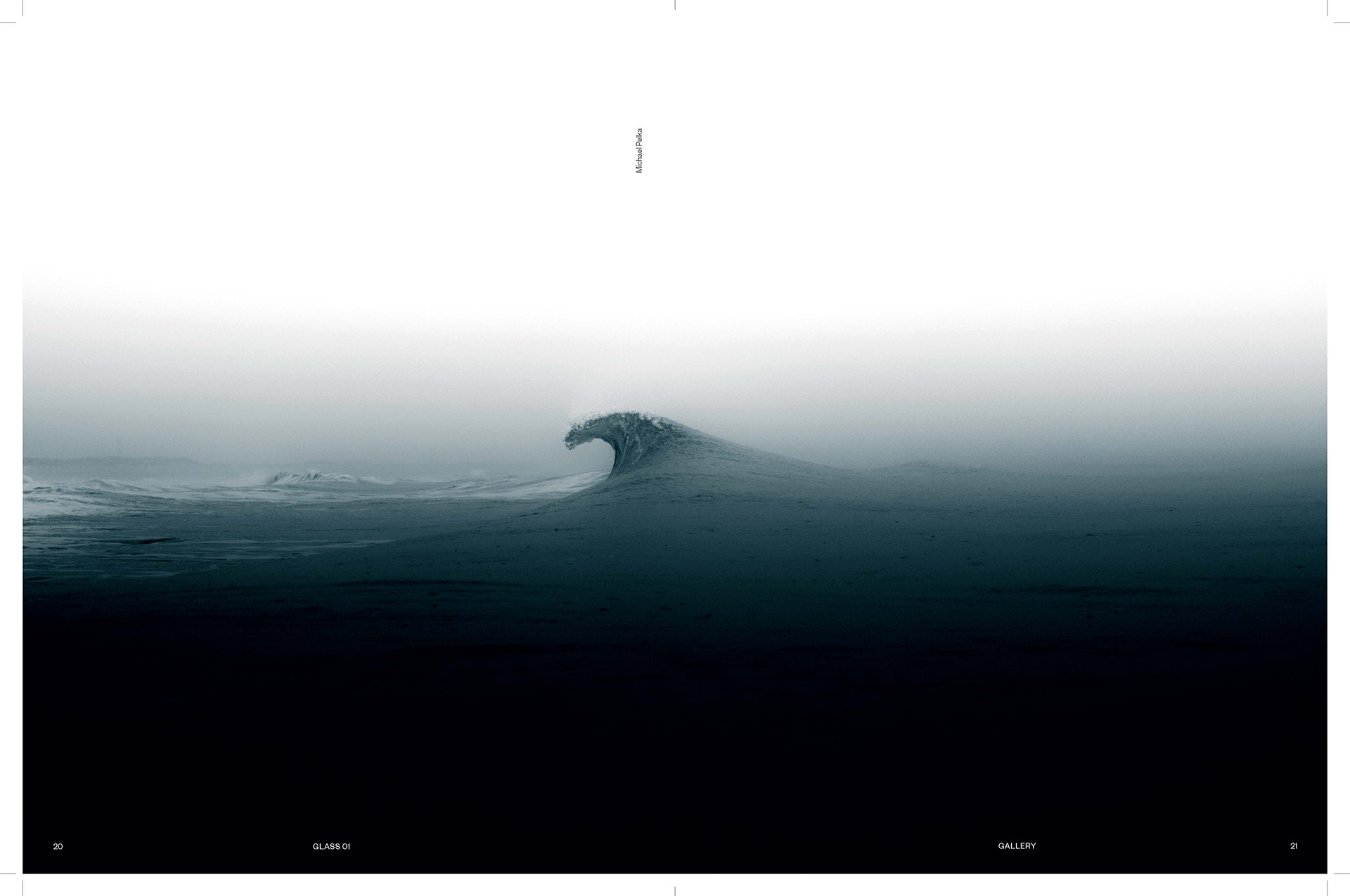 Glass V01 from award winning surf creative Lewis Arnold has just landed on the mat and it's a thing of beauty. The book is a love poem of sorts celebrating the North Sea in all its guises, written in the language of those that call these fickle waters home – patience, frustration, hope and thick-lipped, cold, dark barrels. It combines an equally thoughtful approach to the process and design as it has to the curation of imagery, words, photographers and writers – the list of whom includes our own Northerner-at-Large, Festival Director Chris Nelson.
We caught up with photographer/ filmmaker Lewis Arnold – whose work regularly lights up the screen at LS/FF – to talk more about his beautiful independent publishing project which you can get your hands on >> HERE.
Top image: Glass V01 // Image Mical Pelka
Congratulations on a beautiful book Lewis. Can you explain a little about the concept behind Glass and how V01 come to fruition. Thank you! Now the book is here, looking back, it has been a long journey to make it happen.
My background is in photojournalism in print media and I've always been into surf mags so I have a "hangover" soft spot for print and have pondered making a publication of some kind over the years. In 2019, I'd just finished my MA in Creative Practice at Leeds Arts University, researching how surf media can communicate ideas to the wider world and was looking for projects I wanted to do. When the pandemic first hit, I was about to do a show in Edinburgh of surf photography and film with Hungarian photographic artist Vilmos Misota. That got postponed a few times as venues shut and although we tried to work around restrictions, eventually had to cancel. We'd put a lot of research, creative work and planning into that show and like a lot of people, I had to take a few steps back reassess my work and practice.
Back then no-one really knew how Covid would play out and the idea of a book came more and more into focus. Maybe the time was right? After all in theory, a book could work despite any lockdowns, and a new creative process began. Eventually, I decided to create what would hopefully be an "exhibition in print", a gallery-style photobook showing surf-related photography, art and writing as valid artistic disciplines, which of course, I believe they are!
Glass V01 focuses on the North Sea – what was the thought process behind this? Travel was off the agenda so to make the strongest book I could, I concentrated on what I could deliver and what I knew best, the North Sea. I have surfed and photographed around the North East for a long time and maybe it's because it's my surfing home and I am biased, but I love the aesthetic we have. More than that, I love the process of change that I have witnessed, the progress in performance, new waves, blow-ins, tall-tales, surfing's growth, photographic development, environmental awareness, really how surfing has gone from being a "joke" to becoming an integral part of life in the North East. The deeper I researched, the more I found interesting, even challenging, surf culture in other surfing communities around the North Sea.
I believe it is the inconsistency and often low quality of waves in the North Sea that can encourage a creative approach in surf communities. A way of staying connected to surfing, even when there is no surf. There are parallels there with the New York surf scene. North Sea surf zones that are influenced by big city culture and apply 'high culture' thinking to surfing. Through writing, film, zines, festivals or art, surfing inspired creatives in cities like Amsterdam, Stockholm and Edinburgh are creating new and stimulating work that often does not fit easily into most surf media. That was exactly what I wanted GLASS V01 to show, work that is different and reflects the heterogeneity of North Sea surfing.
How did you assemble your contributors and collaborators?  Did you enjoy the process of curating? I always keep my eyes open to what my contemporaries are doing and what is going on in surfing around Europe, so I already had a "hit list" of creatives making work I find interesting. I approached Vilmos as we had been collaborating already, then I contacted Michal Pelka in the Netherlands. In my formative surfing years I remember sitting in the lineup at Tynemouth wondering if the surf was better on the other side? I told Michal about that and he liked that idea of contrasting the surf cultures of different countries all surfing the same sea. I just worked like that, pretty much cold-calling who photographers whose work I respect and I feel it has worked well.
For me, the edit process is a hugely stimulating aspect of the project. I think most photographers have work that they personally feel is really strong but may be overlooked by publishers or media for some reason and I tried to unearth some of that. Initially, I just asked contributors for a really loose edit of work and then broadly edited that, used zoom to discuss my edit and why I thought it would work. There was always some debate between us but it was about reworking existing work and introducing the new. I always try to be highly critical of my own work as I think that is how you identify how you can progress your practice. I adopt that super critical approach when looking at all photography, trying to understand why an image works or doesn't work. I think no matter how strong you think photograph is, there is always some way it could have been better, honest constructive criticism allows you to work out how that is.
The look and feel of the book is beautiful. Each design decision feels incredibly well thought out from the paper stock, to the edge printing to the spot gloss and everything in between. Was design an important factor in the project? I am stoked you feel that comes across as there was a lot of thought, experimentation and debate to arrive at the design for the book. During my MA, I had studied photobooks from respected contemporary photographers like Alec Soth and Greg Halpern and design is obviously very important in the presentation of their work. I wanted to apply that kind of treatment to surf photography and to hopefully achieve that feel of an "exhibition in print".
I approached Ali Marshall, a North East surfer who works at Temple Design in Newquay, he redesigned Wavelength a while back and does the layout now so I knew he was expert in surf print. Like my approach to photographers, I asked if there were any ideas he wanted to try out but had not had the right project to do so? The edge print and also having a pretty much blank cover were Ali's ideas. Almost all print surf media has a wave of some kind on the cover so to go against this norm is a bit of a leap, but we were trying to do something different so it felt right. Every design element in GLASS has been agonised over but I think the stress has been worth it as the design is proving one of the most popular aspects of the book.
Independent publishing is a huge endeavour you have to suddenly become an expert in so many different areas. Can you tell me about some of the high points and some of the challenges on the journey. I think if you are genuinely driven to create, whether it be a book, film, song, whatever, the urge to deliver your vision overrides the fact you need to deal with the practicalities necessary to make a project happen. I don't know about being an expert but I have followed a steep learning curve in finance, selling online, costings, print process, shipping, postage, packaging, marketing, customer service and more. I underestimated the work involved, Omicron didn't help and there were problems with the supply of FSC paper and plastic-free packaging. I learned suppliers prioritise big clients and a small publisher is way down the list.
Funding was tough. I think surfing is looked upon as some kind of frivolous, meaningless pursuit by a lot of potential arts and culture funders. I feel they don't understand the power of surfing, spiritually, creatively or environmentally and I disagree with that and it's something I want to change. Hence the Kickstarter campaign. This was a real highpoint as its' success provided most of the money to make it happen and showed there was an audience for GLASS out there, up until then, I had just been going of my own instinct… as usual.
What do you hope people take away from the project? I hope GLASS will make people think about surfing in some way that is new for them. Whether through the photography, art or writing, the book contains views and ideas that have been overlooked as they are controversial but the independence of GLASS allows those views a platform. Reaching out to other photographers and bringing them together has built strong relationships across the North Sea surfing community and that itself is rewarding. So even in these troubled times, like North East surfing itself, our surf culture also continues to progress.
What's next? The book has had an unreal reception that is way better than I had hope for. We have already shipped to every corner of UK and European surfing as well sharing North Sea surf culture with the USA, Australia, S.A. and even Reunion Island. This means I think we are on the right track to build something organically that is worthwhile. New creative photography and films will be released soon to accompany V01 and hopefully help the reach of the book to grow.
Every copy sold means funding towards V02, what that will be I don't know yet other than that supporting our surf culture will be at its core once again.
FOR MORE CREATIVE CONVERSATIONS LIKE THIS >> MICKEY SMITH