Thursday 26th October
POP UP: THURSDAY 26th OCT, Allpress Dalston  // 7pm >>TICKETS
We are stoked to be able to present – along with our good friends at Allpress Espresso and Backwash Surf Anthology – an awesome night of sliding scramblers, smooth saddles, single-fins, sizzling sausages and Sharp's ales. Mix in some Espresso Martinis  – courtesy of Aluna Coconut – plus a gallery show, live music, good friends and you have the perfect way to round off LS/FF 2017!
UK PREMIERE: The Scramble Gamble by Nathan Myers //
Nathan Myers has grown to become a perennial fixture in the LS/FF line-up and there's a good reason for this – his films are so damn good! In The Scramble Gamble four friends set off on an Indonesian road trip without checking the swell, booking reservations or any of that organisational crap. On their bikes, they have everything from a 5'2″ fish to a 9'6″ longboard. The best gamble is the one you take… surfing, scrambling, exploring, whatever.
Plus World Premiere: Headwind Haters Dir: Chris McClean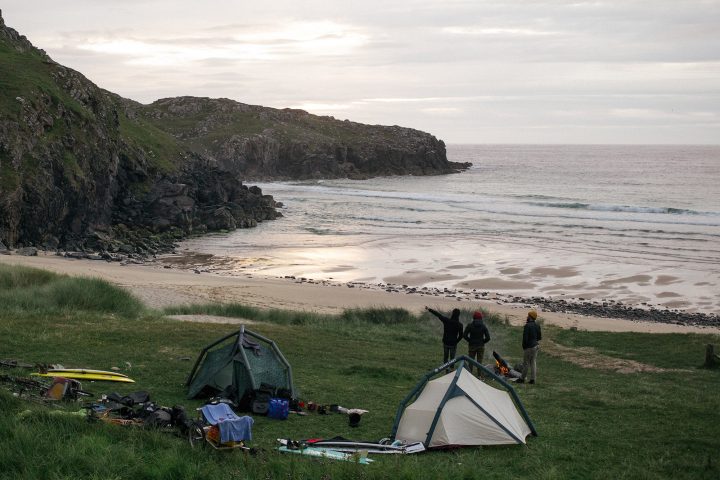 Top UK filmmaker Chris McClean gathers together a super slick threesome of surfers and sets off on a cycling and surfing odyssey around the fringes of Scotland's Atlantic coast in a pedal powered adventure. Featuring Cornwall's stylemaster-in-chief Mike Lay, Basque surf adventurer Kepa Acero and south west France's female charger Lee-Ann Curren. Turns and talcum powder galore!
Presented in person by Kepa Acero, Mike Lay, LeeAnn Curren and Chris McClean.

Live music from LeeAnn Curren, CJ Mirra and Colin Macleod.
Showing with:
UK Premiere: Dispatches From Mexico dir: Eugenio Barcelloni
Charging huge Mexican beach break barrels with Euro traveller explorer Eugenio Barcelloni. "Dispatch from Mexico is a mix of images that tell my long journey through the Southern Pacific coast of Mexico, the State of Oaxaca and Chiapas. I often travelled by bus, captivated by the deep roots of these areas, from places of worship and crowded squares to the wild nature, combining my passion for big waves."
Showing with SHORTIES Shortlisted films
The OA3 dir: Roger Sharp (5mins) Cruising the tropical perfection of the Maldives aboard the OA3 featuring Markie Lascelles, Josh Ward, Leonor Fragoso and Gwen Spurlock.
Shaka Status dir: Chris Case (5mins) Irish based filmmaker Chris Case showcases waveriding with a maximum stoke factor, as a small, clean day offers epic bodysurfing and finless gliding conditions. Starring: Barry Mottershead and Dylan Stott
LaYzDaYz by Chris Levi (5mins) Long-time friends, skilled shapers and hard chargers Ben Skinner (Skindog Surfboards) and Markie Lascelles (Beach Beat Surfboards, Cord Surfboards) leave their native Cornwall to hop across to Ireland's west coast to score some perfect reefs. Starring Ben Skinner and Markie Lascelles
Below: Headwindhaters